A Modern Bank with a Long History
Friendship State Bank was founded in 1912 by local business owners and farmers.
Wilkie S. Lemon, a local farmer whose main background was in horse and cattle trading, was chosen to manage the new venture . Lemon requested a period of training at the Osgood Bank before assuming his duties.
In April 1912, Wilkie Lemon went to the Osgood State Bank. On October 26,1912, he became the first Cashier and Manager of the Friendship State Bank. He was armed with six months of training and a two-page list of things you need to start a bank (pens, pencils, ledger sheets, etc.).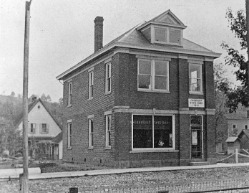 The first Board of Directors meeting took place on November 2, 1912. The first loan application, from the Bear Creek Baptist Church, was approved. The board also agreed that the bank would make no loan for lower than twenty-five cents. They decided to install a telephone as soon as possible-the bank's first step into the "high-tech" world.
Wilkie Lemon justified the faith of those initial investors by his superb management of the bank from 1912 until 1957. It was by his efforts that Friendship State Bank weathered the Depression of the 1930's, which was catastrophic for many small banks. Surprisingly, one of the casualties of the era was the Osgood State Bank, where Mr. Lemon had trained.
Sensible growth management is a hallmark of Friendship.
The bank started in a small building on Main Street in Friendship, Indiana. It was added onto several times until it reached its present size. This gradual approach was similarly followed in our expansion to seven other locations- Dillsboro (October, 1989), Rising Sun (February, 1998) Versailles (November, 2000), Vevay (January, 2006), Batesville (January, 2009), Madison (May, 2016), and Lawrenceburg (June, 2016). Each expansion was in response to community requests for service.
In 2016, two branch offices opened. The Lawrenceburg office was a long-term goal for many years and the right location made it a reality. The Madison office was in response to another local community bank being purchased by a large, super-regional bank. Friendship believed that people still desire their banking decisions to be made locally, and sought to offer those services to the people of Madison.
This responsiveness to community needs is reflected in branch management.
Each manager is encouraged to run his or her branch like their own bank to be a true part of the community they serve. This personalized approach is a key element of Friendship State Bank's success at each location.
Recognizing the need for a full menu of financial services, the bank acquired an insurance agency in 2000.
Friendship Insurance
is a regional-leading insurance agency, with agents convenient to all customers in our market area in our local branches. Most agents have over a decade of experience, ready to make banking and insurance services a one-stop-shop. Friendship Insurance specializes in property and casualty, and crop insurance.
The Lemon family is in its fourth generation of management.
After Wilkie Lemon's death in 1957, his son James W. Lemon managed the bank until 1992. James William Lemon continued his family's tradition from 1992 until 2016. While retaining the role of Chairman of the Board, he turned over the CEO duties to his son-in-law, Christopher Meyer with the start of 2016. 
Many members of the Lemon family, including Jim's brother Tracy Lemon, have found careers in the Friendship State Bank,.
The legacy of strong, sensible, community-based banking is in good hands for the future.
More than 100 people rely on Friendship for solid, good-paying jobs.
Job retention is high, upward mobility is real, and we boast the best group of community bankers, at every level, that you will come across. Come on in and see for yourself.
From the beginning of the 20th century to the dawn of the 21st, from 25-cent loans to multimillion-dollar transactions, the Friendship State Bank has prospered. We look forward to its challenges, inspired by our past successes. We will continue to be a community bank, responsive to the needs of both our customers, employees, and our shareholders.