Despite different ages, careers, hometowns, and interests, Friendship directors share a passion for the people of Southeastern Indiana. Their dedication to independent, community banking is built on a desire to offer personal, customizable service that supports healthy and thriving communities.
Chris Meyer - President and CEO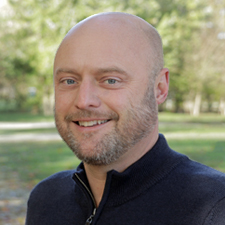 Director since 2018
"My goal is to make sure our employees and communities know this organization has been, and will continue to be, one with an appreciation for legacy and a source of ongoing opportunity."
Chris was raised in Wisconsin and now has just a short 7-minute commute to Friendship each day. Chris began his work with Friendship in 2000 through his company, Write & Design, doing freelance marketing and promotional work for the bank.
Over time, he grew to love the positive impact that a community bank can have on its customers, the region, employees, and the local shareholders. In fact, he enjoyed it so much, that he and his young family left Wisconsin, and returned to his wife's home town near Friendship. Chris learned from his mentor, Jim Lemon, pursued additional education and knowledge, and after 15 years of bottling that into experience, was named as CEO in December, 2015.
Off the clock, Chris has fun experiencing life with his family, digs around in the garden/orchard, brews fairly tasty beer, reads odd sci-fi, practices his marksmanship with a buffalo rifle, and otherwise dabbles in whatever interests pop up.
Here is his LinkedIn profile
.
Jim Lemon - Chairman of the Board
Chairman of the Board
Director since 1983
"We have helped a lot of people become homeowners and business owners. We have expanded our reach and have had a positive impact on the economic well being of the communities which we serve."
Jim retired as the Friendship State Bank CEO in December, 2015. Jim was raised in Friendship and a resident until 2001 when he moved to the Versailles area. Jim enjoys competitive shooting, woodworking and golfing.
Director since 2014

"Our ability to offer personal service is what sets us apart as a community bank. We think of our customers as people, not account numbers. We strive to maintain that level of service as we grow."

Tracy is a retired Friendship State Bank loan officer. He was raised in Friendship and currently resides in the Versailles area. Tracy loves the great outdoors and you'll find him camping, horseback riding and hiking during his down time. Tracy also enjoys carpentry.
Director since 2017
"I was very honored to be appointed by the Board of Directors. It is truly an honor to continue to be part of such a great bank as Friendship State Bank."

John is a retired Friendship State Bank loan officer. John was raised in Moores Hill where he resided for 52 years. He currently resides in Aurora. John enjoys playing golf and time with his grandchildren.

Director since 2019
"I have always been an advocate for sticking with the small town, local businesses. Being able to bank with someone you know is unique to a small town. I am committed to keeping the Friendship State Bank local and independent while remaining innovative in our services."

LeeAnn is a CPA and partner of Boggs and Race LLC in Dillsboro. LeeAnn grew up in Rising Sun and now lives in Vevay with her family. She's a sports mom and wife and enjoys cheering on her daughters' and husband's teams at the home games.
Director since 2020
"Community banks are becoming rare. That gives us the opportunity to shine by being present and engaged in our community." 
Mike is a retired Friendship State Bank Chief Lending Officer with more than 30 years of banking experience. Mike grew up in Farmers Retreat and now lives just a few miles from Friendship in Dewberry. Mike enjoys time with family and flipping houses in the area.