Friendship State Bank's Versailles lending guru, Tracy Lemon, retired at the end of 2022 after 38 years with Friendship. Tracy will continue his role as a Friendship State Bank director.
Lemon was born the youngest of three children to James W. (Friendship State Bank's second CEO) and Patricia Lemon. He grew up on a farm not far from the bank in Friendship with his sister Evelyn and brother Jim (both previously retired from The Friendship State Bank).
Bank customers often stopped by their home when he was growing up and were a welcomed sight and break on hay baling days. He witnessed many loans made on a handshake in those fields. One customer, who worked six days a week, would park at the bottom of their drive every Sunday, and walk up with a deposit in hand, trusting that it would be in the bank on Monday.
Lemon's childhood memories also include playing with calculators in the bank, shoveling snowy bank sidewalks, and exchanging dime rolls at the teller line to hunt for silver dimes with friends. He even trekked to Indianapolis once with his dad to deliver a million-dollar check to the state house.
He never intended to follow in his father or grandfather's footsteps by becoming a banker. In fact, he initially worked purging archived documents in the vault before quitting after two weeks. He couldn't handle being in a dark vault all day, so that summer, at age 17, he joined a contracting company, grabbed a chainsaw, and went to work clearing trees along power lines. He went on to work construction for 10 years and may have continued had his employer not closed the business. He worked on his own for a few months before he was offered to give a banking career another chance. He took a pay cut but accepted a teller position.
He admits it was much different then, with fewer regulations. The lobby was always packed. The bank lobby in Friendship served as a social gathering place on Saturdays. People packed in to catch up with neighbors and friends while waiting to do their banking.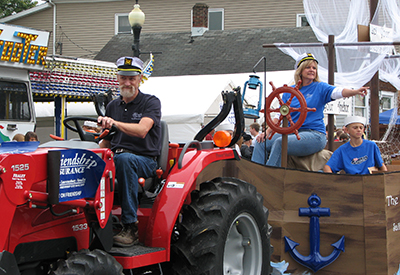 Captain Tracy commanding Friendship's float in the 2009 Versailles Pumpkin Show Parade.
Lemon's banking career included many roles. He worked as assistant cashier, cashier, assistant trust officer, BSA officer, internal account auditor, branch manager and loan officer. Lemon's lending training consisted of two weeks observing his dad and brother before jumping into the trenches at the bank's first
branch office expansion in Dillsboro that was opened in 1989.
Lemon served as a lender at the Dillsboro, Friendship, and Cross Plains branches before settling in his permanent home at the Versailles branch. Brenda Hance joined his team in 2003 as the branch's loan processor after the community bank she had worked for the previous 20 years had been sold. They were the Versailles dynamic lending duo. Hance enjoyed her work and the fast-paced atmosphere as the Versailles loan processor, but with Tracy's retirement, decided to also retire at the end of the year.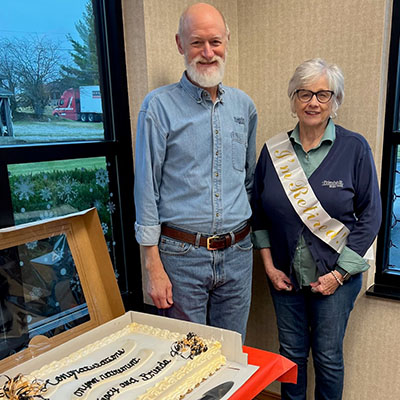 Tracy Lemon and Brenda Hance in Versailles at their retirement open house in December 2022.
Lemon loves knowing that Friendship has contributed to community growth throughout all southeastern Indiana. And while he admits that mortgages are not easy work, helping someone get in their first home is extremely rewarding.
Lemon mentored the next generation of Versailles lenders over the past year – Lafe Dobbs and Megan Gray.
"I'm leaving our customers and our future customers in good hands," said Lemon. "I'm confident that they will continue the good thing we've started."
Lemon was not only a mentor for Dobbs and Gray, but also their lender.
"My parents and family and husband's family all use Tracy as their loan officer and have for years. I was fortunate to know him before I started working here," said Gray.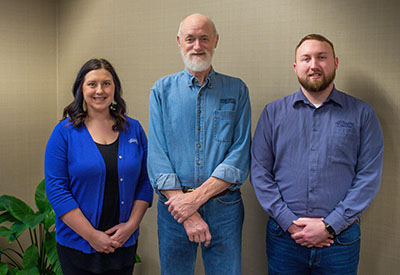 Tracy with the next generation of Versailles lenders - Megan Gray and Lafe Dobbs.
"Tracy has been a staple in the community, especially for the Versailles office," shared Dobbs. "People know who Tracy is and that he'll do what he can to help a customer. They could also count on Tracy to be there when it came time for the 4H fair."
"Tracy has taught me how to be a lender who looks at all avenues and options to help our customers," added Gray. "He will be missed and has left some big shoes to fill. And of course, it's going to take more than one person to do that!"
When asked what advice and encouragement he would offer his fellow employees, Lemon's focus remained on customers.
"Remember that without the customers, we, The Friendship State Bank, are nothing. This bank was built on above and beyond service. And that has gotten us to where we are today. I like to believe that is

why our customers continue to come back to do business with us," Lemon said. "Look out for the customers' needs first over anything else. While there may be limitations with regulations and policies, this mentality is what will lead to our continued success as individual employees and a company."
Lemon is most looking forward to more time for traveling, camping, and fishing during retirement. His love for the outdoors developed at a young age. Nearly every summer Sunday afternoon, his family would saddle up and ride horses to check their cattle on the other side of Friendship. They also enjoyed trail rides. Laughery Creek was literally in his backyard and provided a great source of fun - fishing, swimming, and boating down flooded waters.
You're also likely to find Lemon at local music venues and music festivals. He still enjoys woodworking and is an avid reader. And he'll have a huge smile on his face while spending even more time with his grandchildren.
We wish Lemon and Hance the best as they embark on new adventures. Dobbs, Gray, and all the bank's employees look forward to serving Versailles and Ripley County for generations to come.
Looking for a lender you can rely on? Start the Friendship! 
Apply online
 or call 812-667-5101 to schedule your appointment today.